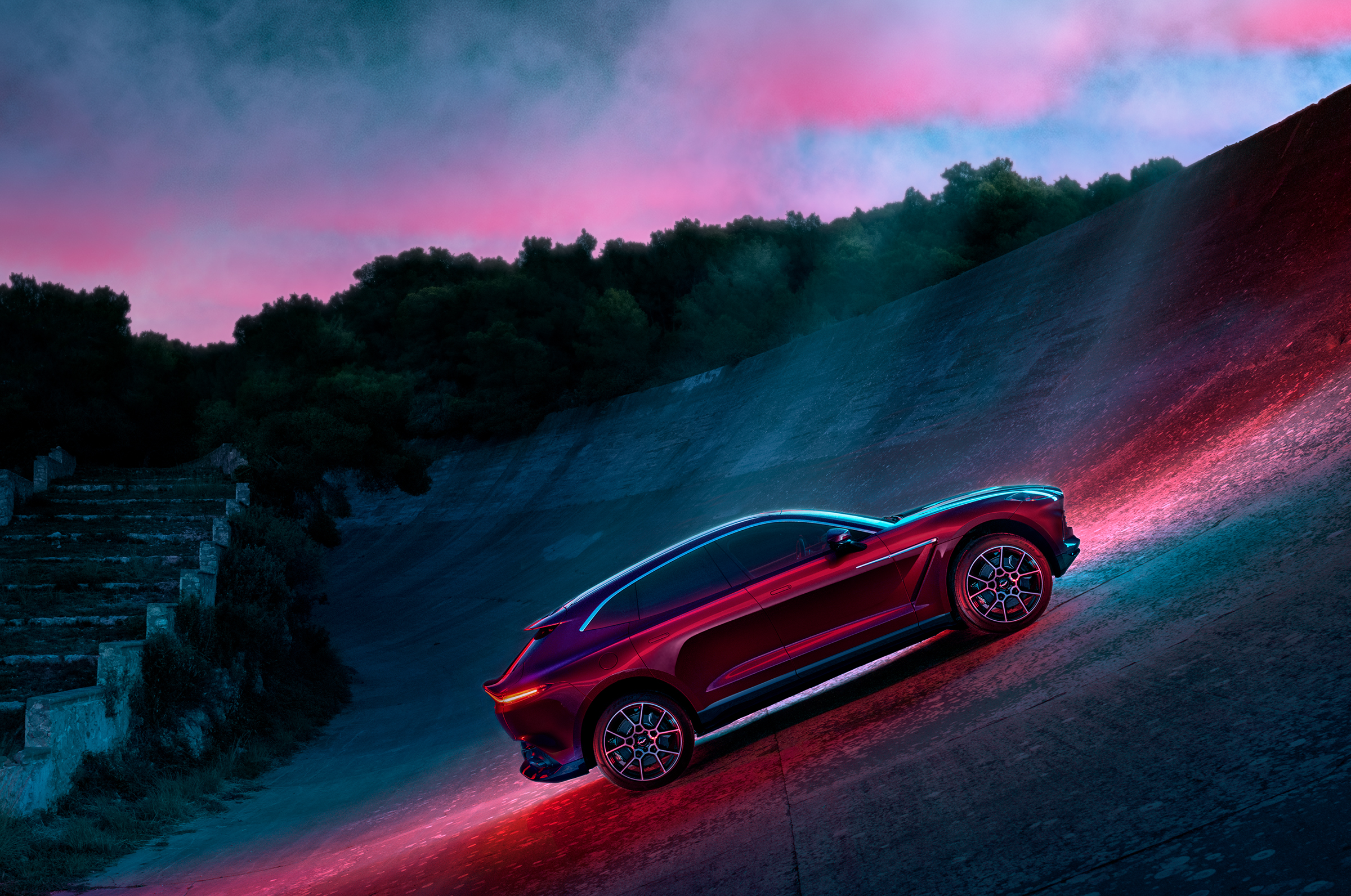 Beautiful and Merciless
DBX
Explore
An Aston Martin in SUV form
Our first SUV, DBX, is a new kind of Aston Martin, one founded on the principles of beauty, luxury and driving dynamics. Ready to go anywhere, it's powered by the spirit of adventure.
Design
Elegant, purposeful and unique
Exterior
DBX celebrates the Aston Martin design language in a new form. With a unique body architecture just for DBX, the design and proportions reflect the unmistakeable style of an Aston Martin.
Shaped for Adventure
First seen on a DB2 prototype in 1949, the Aston Martin grille provides a distinctive and evocative face for DBX. Integral to its design, it dictates the muscular curvature of the bonnet and the way it clothes the mighty powertrain.
Interior
DBX is a 5 seater SUV that provides a sumptuous experience for every occupant. It's a world of luxury, with a panoramic sunroof providing a sense of airiness and space for all. A commanding driving position instils a sense of confidence and provides the driver a clearer view of the road ahead.
Technology
Full ASTON MARTIN
Innovation to take you anywhere
Active all-wheel drive with variable torque distribution and height adjustable air suspension, all provide DBX with the confidence and versatility you need for life's great adventures. It will never compromise how it gets you there.
An Exclusive Architecture
DBX sits on an all-new platform designed exclusively for our SUV. Like all core Aston Martin models, DBX is crafted from aluminium that's bonded not just for strength and toughness, but ultra-lightweight too.
Iconic Engineering
We never compromise in the engineering principles that govern the way all our cars ride and handle, and DBX is no exception. Like all our production sports and GT cars, DBX has double wishbone front suspension combined with a multi-link rear axle, as well as electronic adaptive damping for every wheel.
Engineering and Performance
A new dimension for Aston Martin
A New Dimension for Aston Martin
An all new adventure. Thanks to lightweight aluminium construction, and its world-leading Aston Martin powertrain and suspension developed by the finest engineers of their kind, DBX drives like no other SUV. It drives like a sports car.
Accessories
DBX LIFESTYLE
Aston Martin has curated a collection of accessories to help you tailor your SUV to your lifestyle, no matter where your next adventure should take you.
BOHEMIAN ESCAPE
Polite and cultured, but with a sting in its tail. With quintessential familiarity and influenced by the colours and textures of the British countryside, the interior is defined by modern dark wood contrasted with Obsidian Black and Ivory. Classic with a twist, a colour accent brings the perfect hint of eccentricity to highlight an idiosyncratic culmination of modernity and tradition.
MALIBU OPERA
Invite a modern but timeless elegance. When a night at the opera closes a day of adventure on a café racer. Gold accents, a monolithic and sophisticated black, expressing a determined and self-confident character. Break the rules. Accept your ambivalent nature. Go for a rebellious sophistication.
MOJAVE MINIMALIST
An unexpected immersion into a refined and crafted atmosphere. Mixing subtly detailed tan leather with tonal Alcantara hints at the equestrian world and fine saddlery. Hyper red exterior paint, with its extreme liquid appearance, resonates with your inner sense of confidence.
REGATTA
Sport and refinement run deeply in Aston Martin's veins. For understated performance and a competitive edge, it effortlessly combines lightweight carbon fibre with a technical blue and red accent that any sporting yacht owner would take instantly to heart.
ASPEN ESCAPE
Sport is not only about performance, it's a choice and a lifestyle. The warmth of wool felt and open pore Olive Ash evokes an active reconnection with nature. This is a soft and warm combination for a stylish and confident you.
CAPRI MACHINE
A tribute to the Dolce Vita; heritage, elegance and power. Greeted with a timeless blend of shimmering white and comforted in luxurious Lords red leather and Alcantara. Appreciate the opulence of sculpted solid walnut, connecting your senses to the Bella Machina. It generates an unforgettable dose of wild excitement
METROPOLITAN SPRITZ
Inject some bubbles into your extravagant life. A trend led satin exterior, reminiscent of anodised copper underpinned by subtle violet shadowing. Yellow pops as an accent and enhances the contrast between light coral and Indigo leather. In a fast-paced city life, the vibrant metropolis opens its doors to reveal cosmetic and pop energy. This is young, daring, fresh and beyond fashion.
URBAN FIGHTER
A bold and assertive take on Sport. A daring contrast of highly liquid, reflective Golden Saffron with the ambient depth of Dark Knight leather. Evocative of a late-night ride through a sleepless city scene. Bravely embrace individuality.