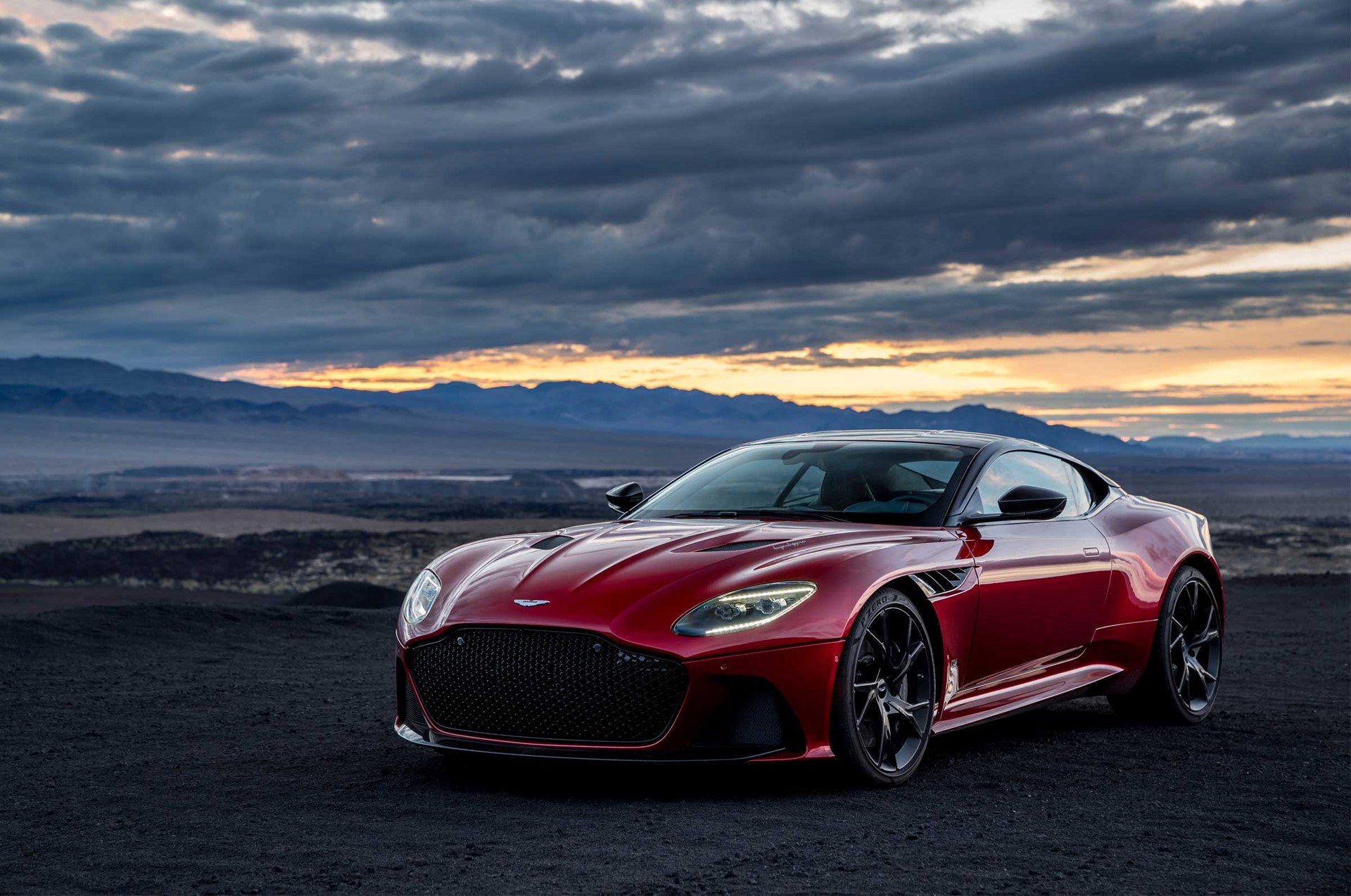 Unlimited Beauty
DBS SUPERLEGGERA
Explore
The ultimate production Aston Martin
For over half a century, the name DBS has meant just one thing: the ultimate production Aston Martin.
Design
Intoxicating form. Compelling function.
Menacingly Attractive
Convention says form and function are opposing interests. The DBS Superleggera proves otherwise.
Taken by its Beauty
The DBS Superleggera is dominated by a breath-taking hexagonal grille, combining a sense of unbounded strength with the most natural beauty. This sets the visual agenda for the entire car while simultaneously feeding the insatiable appetite for oxygen of the mighty 715bhp engine.
Interior
Where others stop, we start. Settle into the sumptuous, leather upholstered interior of the DBS Superleggera and see how our high-performance seats support your body to perfection. In both the driver and passenger seat you are home before the journey has even commenced.
Supernatural Ability
The DBS Superleggera is our most aerodynamically sophisticated production car ever. There's genuine engineering purpose behind the splitters, side sills and Aeroblade II™ that goes far beyond their muscle-bound appearance. .
Most notable is the new, fixed, carbon fibre Aeroblade II™. As turbulent air flows along the body side behind the C-Pillar it is controlled and redirected by Aeroblade II™, working in conjunction with the double diffuser which accelerates air beneath the car. Whilst most cars work to reduce lift, the Aeroblade II™ and double diffuser work together to create a huge amount of true downforce, pinning the DBS Superleggera to the road using 180kg of aerodynamic pressure. This incredible combination transforms stability and handling, inspiring driver confidence.
Sculptered Lightness
The ultra-light carbon fibre clamshell bonnet would look as at home displayed in a sculpture gallery as it does adorning our most potent product ion model to date. But we never do anything just for show: here the carbon fibre cuts weight, lowers the centre of gravity and expels hot air through a set of beautifully sculpted bonnet vents.
A Whole New Realm of Luxury
We all know luxury when we see it. It entices and excites; it draws us, spellbound, to its core. But true luxury, Aston Martin DBS Superleggera luxury, is simple to define and easy to see: it is freedom. Freedom to create an environment of your choosing, freedom to express yourself, freedom to have it your way.
Which is why you can select your own cabin for the DBS Superleggera. Whether you leave the decisions to the exquisite taste of our own interior designers or take that as your starting point and treat the entire interior as your own blank canvas, the DBS Superleggera gives you that freedom that is the source of all true luxury.
Engineering and Performance
Power without control is power squandered
Matt Becker Chief of Vehicle Attribute Engineering
"DBS Superleggera is a hugely potent car. Every time I drive it I'm blown away by its raw performance."
Strongest Lightweight Materials
Typically, as a car gets faster, it requires more cooling, larger brakes and stronger suspension, which inevitably results in increased weight. The DBS Superleggera begs to differ. Naturally it has been upgraded in all areas required to handle its phenomenal performance, but not by merely adding more of the same, instead using the finest, strongest lightweight materials.
The Architecture of Beautiful
"Power without control is power that is squandered, which is why the DBS Superleggera is a master at making the most of the vast resources the V12 places at its disposal.
It starts with a chassis of enormous rigidity and continues with a classic double wishbone front suspension, a geometrically optimal multilink rear axle and an even more stable stance thanks to a track that is 10mm wider than the DB11 at the front and 20mm wider at the rear."
Enticing Technology and Entertainment
"Good taste and outstanding luxury is nothing if ease of function is compromised. By creating an interior that combines the finest handcraftsmanship with cutting edge technology, rest assured the DBS Superleggera is as easy and intuitive to operate as it is cossetting and inspiring to inhabit.
Information is provided by state of the art TFT screens, one 12"" unit to provide the instruments and an 8"" display for all infotainment requirements, including the latest satellite navigation mapping. You can instruct your DBS Superleggera in the normal way, by letter recognition drawn on the touchpad, or gesture or voice control."
Performance
Beauty and performance in equal measure.
Beautifully Brutal
DBS has long signified the utmost in elegance and speed, comfort and performance. The DBS Superleggera Coupe and Volante are meticulously handcrafted with beauty and performance in equal measure. No fraction is compromised.
The DBS Superleggera will leave you in awe. Its beauty is absolute.
Sonorous Soundtrack
Nothing less than a quartet of matte black exhausts will suffice to unleash the peerless sound of the V12 to the outside world providing an unforgettable experience to those both inside and out of the DBS Superleggera.
The engine's effortless and instantaneous urge accompanied by the inimitable multi-layered symphony of a thoroughbred V12 provides the finest soundtrack you could hope to hear. They are memorable, defining characteristics of the new DBS Superleggera.
DBS SUPERLEGGERA Accessories